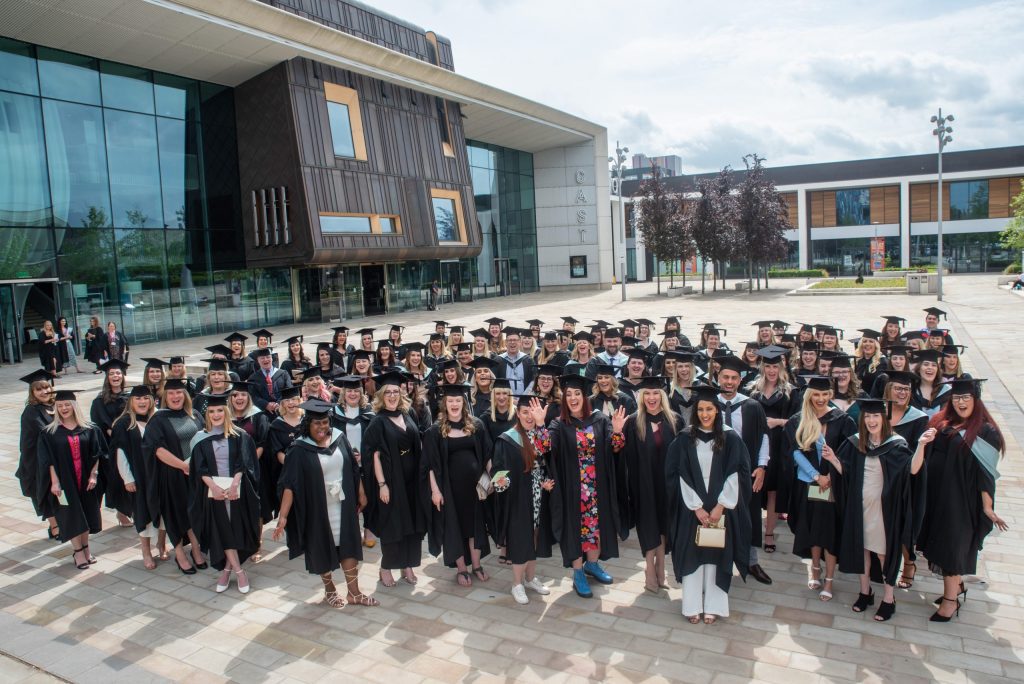 University Centre Doncaster held three ceremonies over two days to celebrate the achievements of graduates from 2020 and 2021, the ceremonies were a great success with Cast welcoming over 1,000 visitors through the doors.
Guests included graduates, family, friends, teaching staff as well as respected guests such as Damien Allen CEO of Doncaster Council, Dan Fell CEO of Doncaster Chamber, Deputy Lord Lieutenant, Civic Mayor and Reverend Ralph Heskett, as well as representation from our partner universities Sheffield Hallam University and Hull University.
These were the first ceremonies to have taken place since October 2019, due to the pandemic the ceremonies were placed on hold with many students wondering if they would ever be able to attend their graduation.
Over the course of the two days Sarah Stevenson MBE and Paralympian Steve Judge addressed the graduates to talk about inspirational journeys with the key messages being resilience, determination and to never give up on your goals.
Sharon Smith, Principal and Deputy CEO of DN Colleges Group speaks about the ceremonies,
"It's been a privilege to be part of the ceremonies over the two days, our vision as the DN Colleges Group is to 'Transform our communities though Learning' an ambition which drives us, knowing the impact we have and the positive difference we can make to people's lives.
Our graduates are a real inspiration to others, studying at a higher level changes the way you think and the way you see the world, and it's not just what our graduates have learnt in the classroom that will ensure they have success in their careers, it is also the skills and attitudes they have acquired. A huge congratulations to all our graduates, you all should be very proud of the journey you have accomplished"
Louise Willis one of the graduates who attended two ceremonies states "It a bit surreal graduating for my FDA and BA top-up in the same week! But I had a really good experience studying in Doncaster, so I wanted to attend both. I started out working in a nursery but have ended up going to work within the charity sector with Grimm and Co focusing on children's literacy and family learning from zero to five years of age."
Kim Russell graduated on Monday and returned on the Tuesday to graduate from the BA. Kim did extremely well to achieve a first-class honour in both! "Living in Cheshire I completed my qualifications via the distance learning offer, which was perfect as I felt there was no way with a young family to do it any other way. Since finishing my studies I have secured a job as pre-school teacher!"
University Centre Doncaster have over 1,200 students studying higher education located at The Hub Campus, Chappell Drive. The provision continues to grow with students studying across varied areas including, Business, Leadership & Management, Social & Community Work, Creative & Digital Industries, Sport Science & Coaching, Engineering & Construction, Computing, Children's Development & Learning, Counselling & Relationship Studies, Teacher Training & Professional Development and Health and Social Care courses.
For further information please visit https://www.don.ac.uk/university-centre/