The Waterfront Restaurant, Bar and Coffee Shop are open to provide customers with food and refreshments in a comfortable and relaxed atmosphere. We pride ourselves in knowing we use sustainable packaging and locally sourced food wherever possible.
Every opportunity is taken to protect the environment and the businesses within our community in order to maintain a successful, safe future for all our students.
Use these links to follow us on Facebook, Instagram and Twitter.
Please use these links to see our new Waterfront Events listings for 2023 – 2024 and the Waterfront Daily Menu.
Coffee Shop Opening Times –
from 02 October 2023
Monday to Thursday 11.30 to 13.00, serving Coffee Shop Menu
Our Macmillan Coffee Morning This Year
Macmillan Coffee Morning – Thank You
September 2023
We are pleased to announce that we raised a total of £1258.20.
All the students had an amazing day, and it was great to see so much support for the event.
We appreciate all the help and support as always, for such a great cause.
We look forward to welcoming everyone back to the Waterfront Restaurant and Coffee shop next week.
Many Thanks,
The Business, Catering, Floristry and Travel Team
More about the Waterfront
About the Waterfront Restaurant and Coffee Shop
Our dishes and refreshments are carefully prepared and served by our Hospitality and Catering students studying a ranging of qualifications from level 1 to level 3 in Culinary Skills, Professional Cookery and Hospitality Supervision. Our facilities create many opportunities for the student experience, preparing them for a career within the industry and enabling them to become occupationally competent within all areas of the sector.
The Coffee Shop has been designed especially for our students, creating a holistic learning environment, preparing them for work in the commercial sector of Hospitality and Catering. We are proud of our charming Coffee Shop; it was designed and created to incorporate a modern but traditional setting which appeals to both internal and external customers. The Coffee Shop offers a tempting selection of freshly made soup, sandwiches, salads and daily specials. Our Italian Coffee Making machines, give our students the opportunity to learn a range of Barista skills, and our students are trained to prepare and serve good quality food, with the help of our very experienced and knowledgeable staff.
The flexibility of our spacious Waterfront Restaurant and bar enables us to provide not only seating for diners at lunch time but can be adapted for other occasions such as conferences, breakfast meetings, afternoon teas and special business dinners in the evening. The newly developed outside eating oasis is a cheerful addition to the Waterfront areas, a spacious terraced area which is fitted with classic style picnic benches, provides a relaxing, welcoming open space during the pleasant weather.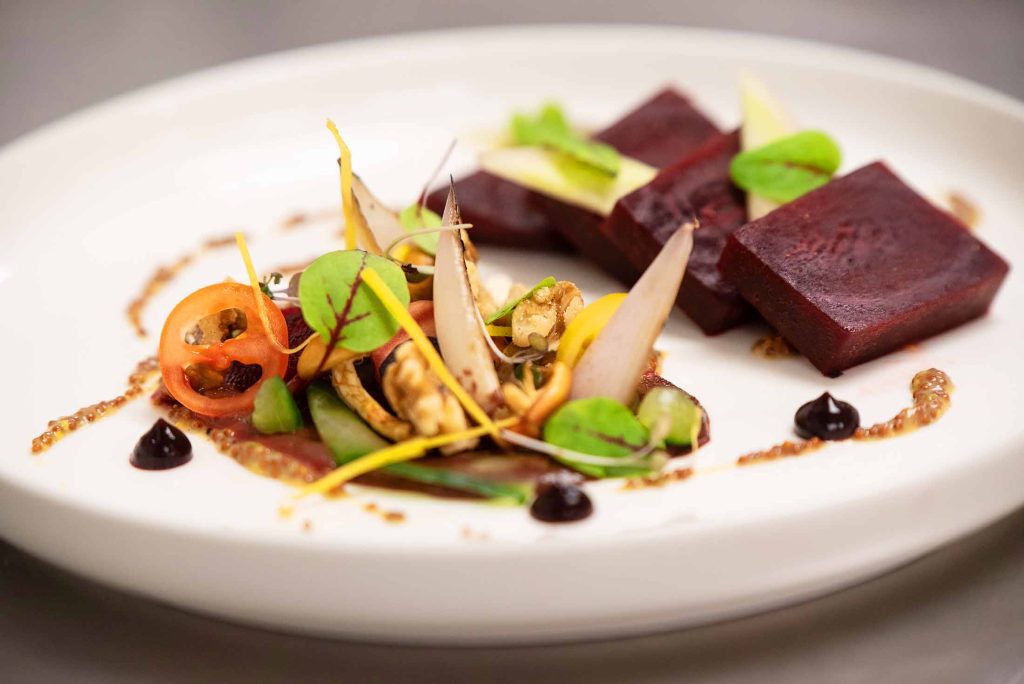 Our Events and Bookings
For information on booking a bespoke event at our facilities please contact using details at the bottom of the page.
Our theme evenings are ever increasingly popular, with our level 3 students providing a spectacular array of tastes, textures and creativity in the dishes they prepare.  These evenings are offered once a month on a Thursday at a very reasonable price.  Please see details of forthcoming events and menus. These evenings also lend themselves nicely for students to practice their dishes created for some of the many competitions our students take part in, see our events page and follow us on Facebook, Instagram and Twitter.
Bookings and Enquiries
We are able to provide space and services for bespoke events in addition to our wide range of events in our calendar.
Whether you are interested in booking a place at one of our events or talking to us about hosting an event for you, please use the form to contact us, or email
waterfront@don.ac.uk directly
Telephone 07549035728