Flowers for weddings, birthdays, funerals, and special occasions.
At Flowers at the Hub our student florists create beautiful floral designs for every occasion using high quality fresh materials. All designs are bespoke and created with care.
Pop in and see us for fabulous offers on student made designs and floral gift.
Please use these links to follow us on Facebook and Instagram.
Christmas Wreath Workshop
Our very popular Christmas Wreath Workshop will be here soon.  See details on the link below.
We have 2 dates this year 28 November 2023 and 05 December 2023.  both will be from 6-8pm.
Please follow this link for more information.
Our student focused shop is now open, selling a wealth of floral designs and gifts created by our talented Floristry students.
Flowers at the Hub is open Tuesday to Friday from 10:30am to 1:30pm. (Term Time Only).
Pop in and see us for fabulous offers on student made designs and floral gifts.
We will re-open on Tuesday 05 September 2023 at 10:30.
Look forward to seeing you all.  
Thank you for your continued support.
Harrogate Flower Show April 2023
Harrogate Flower Show Competition
At the Spring Show, the Floral Art Pavilion was bursting with magnificent floral art displays created by florists, flower clubs, colleges and individuals from across the country.  Please follow the link to the Harrogate Show website Home | Harrogate Flower Show.  It was a great opportunity for all our Floristry students and they did us proud.
Congratulations to all involved in the event.
Doncaster College was once again well represented and came home with 3 Awards.
Florist Colleges – Inventive Britain
Doncaster College – Silver.
Floristry Classes
B3 Life on the Veg:             3rd Heather Broadbent. (Doncaster College)
B4 Raise the Bar:               2nd Mariella Angela Picciau, (Doncaster College)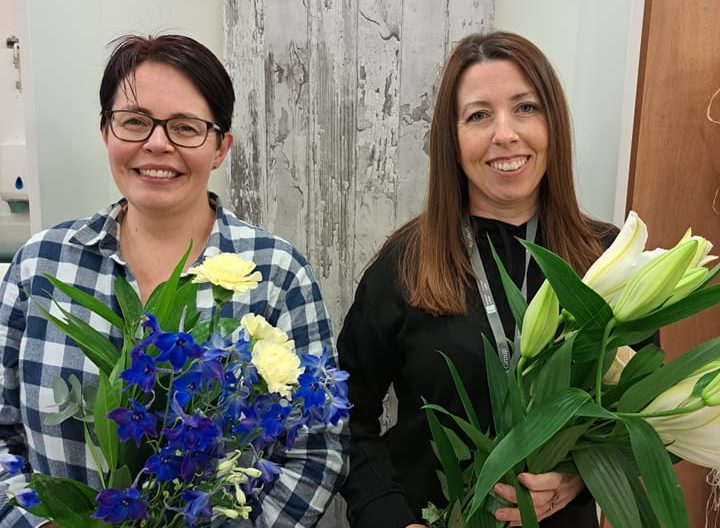 WorldSkills UK
Doncaster College students, Emma Beever and Danielle Thompson, along with a group of their peers, recently took part in the World Skills Floristry competition in which the students had to showcase a range of their talents live to judges in the finals. The competitors made a variety of floral designs.
Congratulations to Danielle Thompson for a Bronze medal. What a fantastic achievement, we are all very proud of you all.
Place an order
Available between Tuesday – Friday – 10:30 – 1:30 (Term Time Only)
Delivery is free within The Hub
We aim to have your order ready within two hours of receiving your request
Call Jackie on 01302 553859
e: jackie.dunn@don.ac.uk