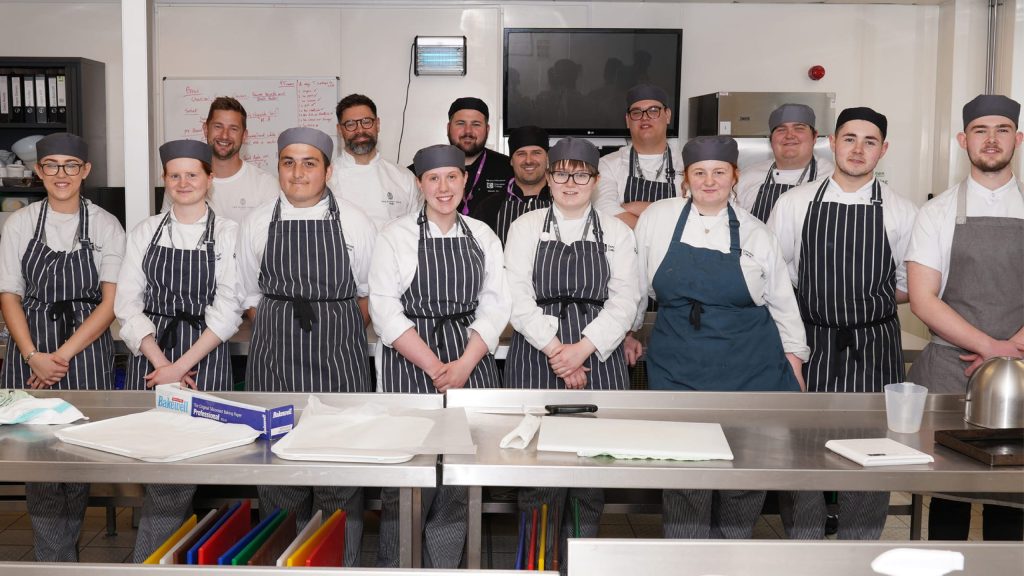 Launched in 2019 national non-profit social enterprise, The Burnt Chef Project was setup with the sole intention of eradicating mental health stigma within the hospitality sector.
Now 3 years on from its creation, the project has grown to encompass the promotion of mental health and self-care to future generation of chefs and hospitality staff across 25 colleges within the UK. As proud members and ambassadors for the project, our hospitality and catering students wanted to give back to a project that has given them so much over the last two years.
After months of planning and hours of meticulous menu refinement our Waterfront Restaurant hosted a spectacular charity gala dinner for over 80 guests during May's annual mental health awareness week.
"Having an event like this is absolutely fantastic, not only to support the cause of help people understand the mental health stigmas in the industry, but to also contribute valuable funds that can do so much to support others starting off in career." Tony Lewis, Chief Ambassador.
Challenging the stigma of mental health whilst beginning to create a culture of care and compassion is something that both The Burnt Chef Project and Doncaster College are striving for. With 4 out of 5 hospitality professionals report having experienced at least one mental health issue during their career, it's important that those entering the profession are equipped with the knowledge, tools and most vital the support network they need to cope within a high-pressured environment.
Doncaster College Hospitality & Catering tutor and The Burnt Chef Project Ambassador Chris Waddington added "The young people I teach are the future of our industry and I feel it is massively important to try and recognise what mental health is, where to seek the right support, and to help these people to spot the signs early."
The sold event featured a spectacular 8 course menu, with produce supplied and sponsored by local businesses The Gentleman Fishmonger and K.D. Davis & Sons.
Mouth-watering dishes included a fish course of Sea Trout served with squid ink ravioli and cockle beurre blanc, a main of smoked beef fillet served with Jersey Royals cooked in coal, sweetheart cabbage and a Nasturtium and Port Jus and finally a dessert of baked nutmeg custard, ginger cake with burnt apple, banana, and liquorice ice-cream.
Simon Barton Chef lecturer and course leader in Hospitality & Catering at Doncaster College and Burnt Chef Project Chief Ambassador added "To be the host of the very first The Burnt Chef Project gala dinner has been such an honour. It was an absolutely brilliant night; we couldn't have done it without our brilliant team both in the kitchen and front of house. Our students have really flown the flag for our industry, and I couldn't be prouder to be a part of this project."
Through the generous industry auction donations and from those in attendance on the evening a total of £3035 was raised for the project. Founder of The Burnt Chef Project, Kris Hall summed up the event "As a Chief Ambassador, Simon is an integral part of The Burnt Chef Project. When he approached me with the idea of hosting a charity gala for the project to give something back to a cause that has helped the staff and students at Doncaster so much, I couldn't have been more delighted. The evening was fantastic from start to finish, the food was spectacular, the service impeccable and atmosphere amazing. To have so many people contribute not only the gala dinner but to The Project through the auction is unbelievable. I just want to say a massive thank you to all those who have been involved and to all who have made such a positive difference to The Burnt Chef Project and to help burn away the stigma of mental health within hospitality."
You can discover more about the Burnt Chef Project here: https://www.theburntchefproject.com