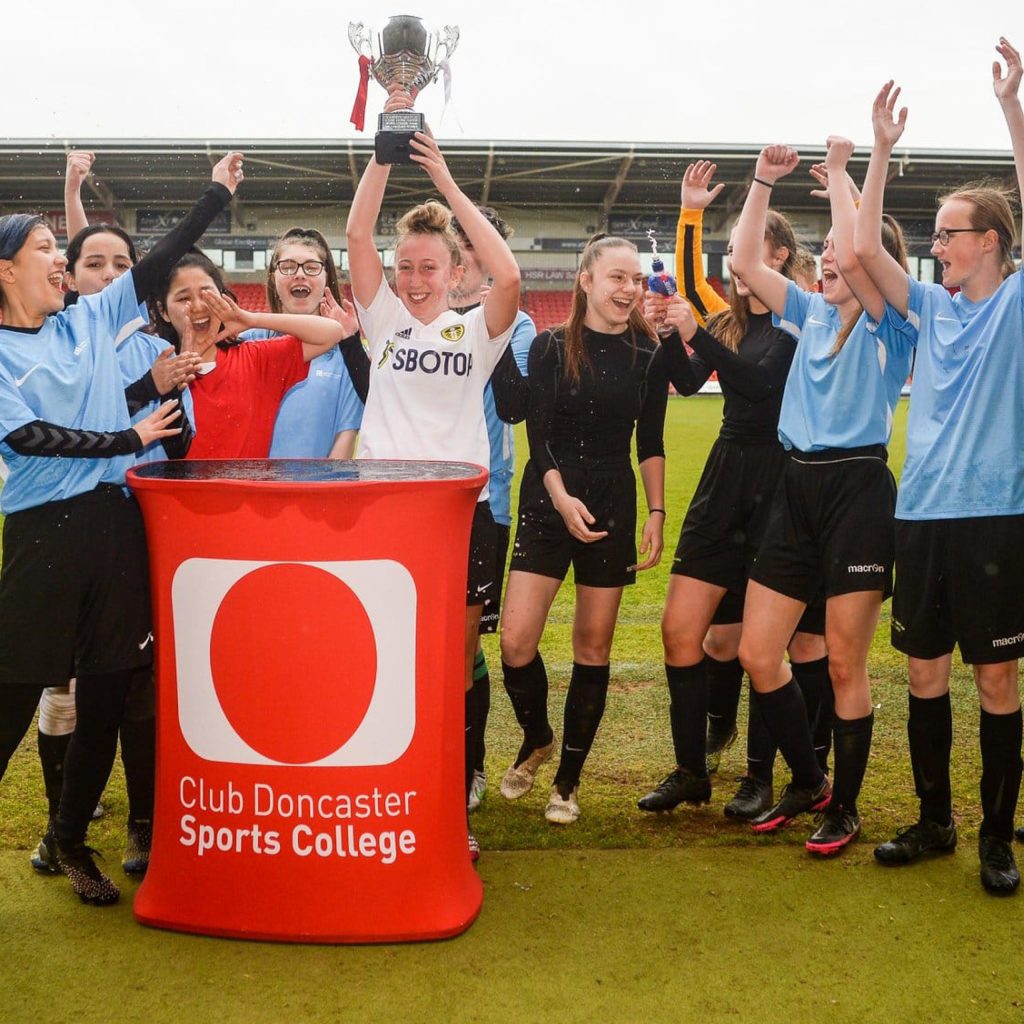 Earlier this month our ladies and men's under 18 Varsity XI played their Club Doncaster Sports College counterparts at the annual varsity day at the Eco Power Stadium.
The event, which gave 88 sports students the opportunity to 'play on the pitch' at the home of Doncaster Rovers FC, comprised of men's and women's matches between the two colleges as well as a Club Doncaster Sports College in-house game.
Adi Turnpenny, Principal of Club Doncaster Sports College, said: 'It was a fantastic day in which we celebrated the partnership between the two colleges. A huge well done to all the students who took part in the three matches, all of which were played in an excellent spirit, in front of parents, friends and staff from both colleges.'
Students had a matchday experience worthy of any first team including use of home and away changing rooms, lining up in the players tunnel, matchday media and even a matchday programme.
With some cohesive and clinical team performances and some spectacular long range individual goals to produce an outstanding total for 26 for the event, at the final whistle honours were finally shared with DN Colleges Group winning the women's trophy by securing the first record-breaking score line of the day with an 8-2 victory. The ladies eight-goal triumph was then quickly eclipsed in the next match by Club Doncaster Sports College men's Varsity XI going on to lift the trophy with a final winning score of 9-1.
Kate McDonald, Director of FE Curriculum at DN Colleges Group stated "It's always a fantastic day at the Eco Power Stadium. Varsity 2022 has been no different, we saw a showcase of some of the best talent, collaboration and teamwork. An experience that students will never forget and a time for parents and friends to be proud of those who took to the pitch."
Thank you to all those who made the day possible and a huge thank you to our partners Club Doncaster Sports College who were amazing hosts and who continue to embrace and strengthen our partnership. It was a day where lasting memories were made, where 88 players took to the pitch, 140 spectators cheered on their team and 3 teams were crowned champions. Bring on 2023!
Interested in studying sport? Take a look at our diploma and degree courses: https://www.don.ac.uk/subject-area/sport/