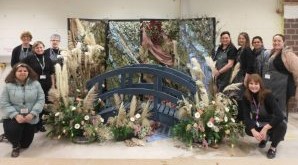 Doncaster Level 2 certificate in Floristry students have been awarded Silver for their entry in the inter-college competition at Harrogate Spring Show (21st – 24th April)
Under the class title 'Masterpiece' the students chose to depict Monet's Japanese Bridge which was expertly constructed in collaboration with Level 2 Carpentry students in a cross-department collaboration. While our Floristry students crafted this masterpiece with fantastic materials, our Joinery students put their expertise to practice, creating the centrepiece of the display; the bridge.
The students designed the exhibit to be 'foam free' choosing to create designs in chicken wire opposed to traditional floral foam making the design sustainable and more environmentally conscious.
A range of designs were submitted to various categories in the show, seeing 3 students go on to win prizes in individual classes. Rachel Bragg achieved 2nd and Amanda Turner 3rd in 'Colourful Celebration' – A tied design suitable for the 2022 Commonwealth games. While Emma Beever achieved 2nd with her design for 'Smoothie' – A design suitable for display in a juice bar .
Pre-show, students worked hard both in college and on site at Harrogate to prepare and stage their designs supported by tutors Jo Cullingworth & Jade Loftus
Further success came for Floristry tutor Jade Loftus who achieved two 1st prizes in individual classes 'Free & Easy' and 'Let nature take over' resulting in her being awarded The Eleanor Shaw Trophy, The Evelyn Mary English Trophy and The Grenfell Medal for most points in show.
Overall this was a fantastic day for our students and staff, giving them the opportunity to show off their skills learned in class, and look at the quality of designs and displays made by others.