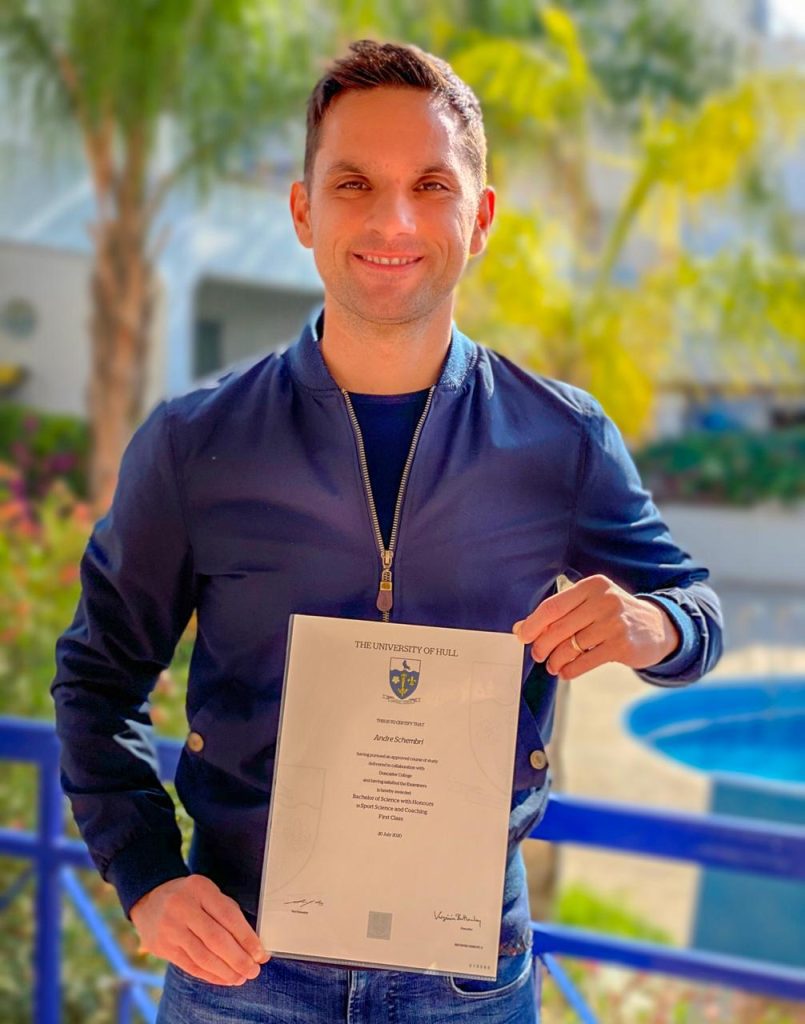 Maltese international André Schembri has had a distinguished career, capped on 94 occasions for his country and playing in some of the respected leagues including the Portuguese Primeira Liga and the German second Bundesliga. Ferencvárosi TC and Boavista FC are some of the prestigious clubs Schembri had the pleasure of representing, including numerous appearances in the Europa League on behalf of Apollon Limassol FC.
Now 2 years after hanging up his boots with Indian club Chennaiyin FC and graduating with a first-class honours degree, BSc (Hons) Sport Science & Coaching in Football with University Centre Doncaster, he is now embarking on a new career as Director of Football at Apollon Limassol FC in Cyprus.
Schembri said "For me, it has never been just about playing football. It's always been more. Understanding the game, the tactics, the right and wrong, the on and off the field. There is a big difference between knowing and understanding, if I can help a coach to the next level and help players and staff reach their full potential, I'm using my knowledge and doing my job correctly."
The tailored coaching course accredited by the University of Hull was at the time one of the only ones in the world to be offered as a football focused distance learning option, allowing for greater flexibility around the student's commitments, which in Schembri case were daily training schedules and weekly matches. "Having the flexibility to study at a time that suited me was a big attraction when choosing the course. Developing an in-depth knowledge and understanding of the principles, theories, policies and issues of football coaching and player development has while still heavily involved in the game also worked in my favour".
The aim of the distance learning course is to not only put graduates ahead of other coaches within their sporting field but to provide them with tools to transfer the theoretical knowledge and high-level coaching to professional teams and athletes. Programme Lead Josh Wroot said "We recognised that those already perusing a sports career or working in a sporting environment wanted the flexibility to progress their coaching career without having to their lives or work on hold. Having the opportunity to build their knowledge both personal and professional with the support of the tutors means students can put into practice the theoretical knowledge giving them a huge advantage over others."
Having researched professional players' perception of their coaches' behaviours as part of his degree as well as continuing his playing career, Schembri is fully aware of the challenges facing modern day players and coaching staff. This valuable insight from both a player and coaches' perspective also lead him to become one of the co-creators of Trainer, a team of multidisciplinary practitioners who together coordinate the delivery of individualised player support services, shaping professionals by optimising individual potential, essentially becoming the team behind the professional player. Induvial clients include Arsenal and England international Bukayo Saka, and United States national team and Valencia Midfielder, Yunus Musah.
Inspired to pursue your coaching career? Take Schembri advice "Never let football stop you from studying and never let studying stop you from football".
Discover more about our sports courses here https://www.don.ac.uk/subject-area/sport-science-and-coaching/