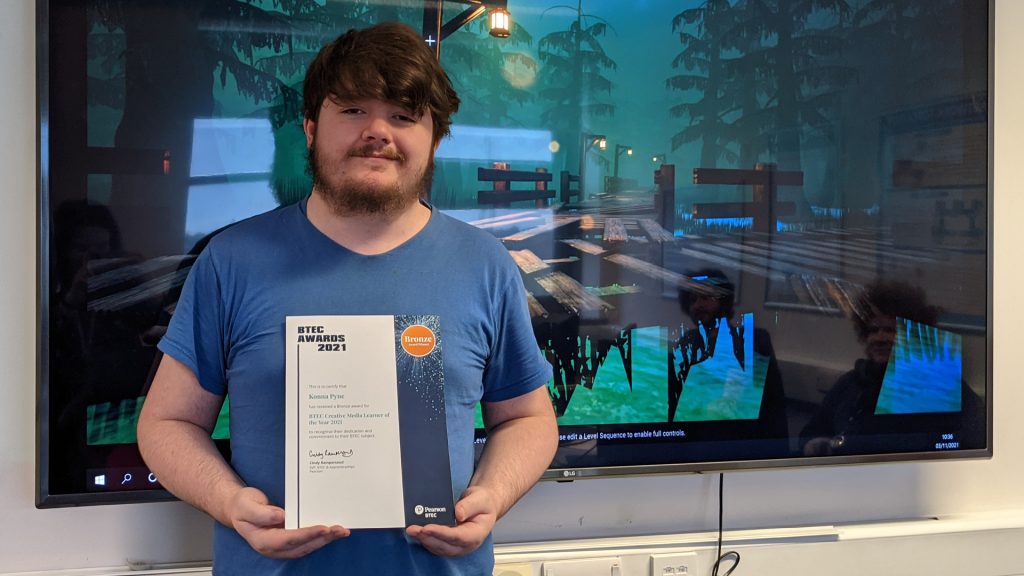 Progressing Games Design and Animation student Konna Pyne, 21, has been recognised by his teachers and peers for his outstanding work ethic and achievement across Level 4 and 5 Games Development course, scooping Bronze Creative Media Learner of Year in the recent BTEC Awards.
The BTEC Awards are a world-wide recognition of the hard work students across the globe put into their work on BTEC courses. Highly contested with nearly a million learners completing career-focused BTEC courses each year, to be nominated at a time when there has been unprecedented disruption to the academic year is an amazing achievement in itself.
Collaborating with his peers on the final major project titled "Temporal Distortion", enabled Konna to showcase his skills in both Unreal Engine and 3D modelling software. During the project, his leadership, understanding and commitment to the task shone through earning him international recognition for all his hard work.
Programme Leader James Cotterill said "Konna's worked hard to ensure not only his own work was completed to an excellent standard but also to ensure everyone in his group was supported as part of his role as project leader."
Having since moved on to the Level 6 BA (Hons) Game Design and Animation Top-Up course this year, Konna is continuing to show an outstanding work ethic and drive to learn, building his skills ready for a career in an ever-evolving industry. With his continued commitment we are sure he'll succeed in achieving his career goals.