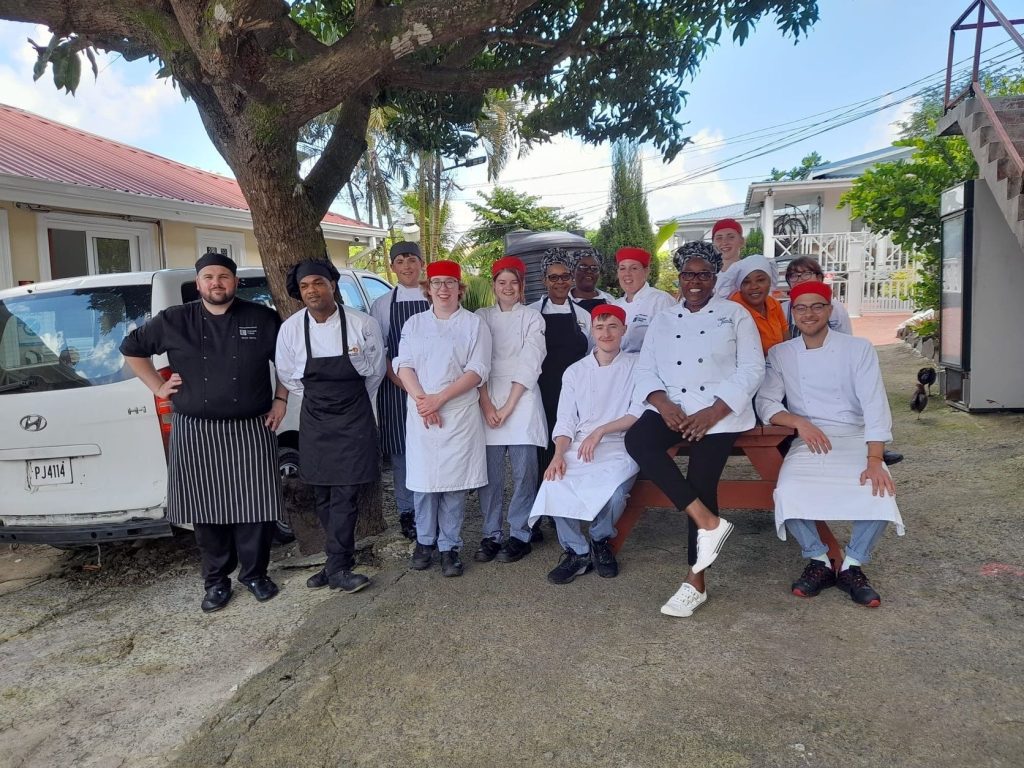 A group of Catering students from Yorkshire had a 'sweet' time as well as gaining valuable knowledge and a host of new skills during a two-week Turing Scheme work placement in Saint Lucia.
Visits to Hotel Chocolat and Castries Market were among the cultural experiences learners from DN Colleges Group enjoyed alongside a culinary tour and work placement sessions during their time on the island, thanks to the partnership with The Caribbean Elective.
In addition, the students and staff visited a local farm to learn about all the aspects of agriculture, witnessed a cookery masterclass hosted by Chef Orlando, one of the Caribbeans finest chefs and participated in a cookery competition at the 5-star Sandals Grande Hotel Resort.
The group of 10 students were the first of 8 cohorts heading out to Saint Lucia, Finland, Indonesia and the USA to further their vocational studies after securing funding through The Turing Scheme.
DN Colleges Group, created in 2017 from the merger of Doncaster College and Doncaster College has been awarded more than £300,000 by the UK government's international education programme to send over 100 students and accompanying staff on the potentially life-changing trips.
Linda Sykes, International Co-Ordinator said: ""I am delighted that DN Colleges Group have been   successful again in securing Turing Scheme funding for the 2022-23 academic year! Investing in international mobility enables the College to support our students by broadening their horizons, boosting employability, and developing their cultural awareness. This second year of funding will help us to drive forward our partnerships with international organisations and continue building on the successful activities that took place in our 2021-22 project. Raising the aspirations of learners from our communities is a key local challenge and The Turing Scheme is really helping us to achieve that."
A great working environment
Aaron, an 18-year-old Professional Patisserie and Confectionery student, said: "It's the most fun I've had cooking anywhere. I feel more confident, and it has opened my mind to working abroad in the future."
"Everyone was so nice and friendly. It was a great working environment, and you could have a nice conversation. Culturally it is very different to the UK, the cooking is laid back and not rushed."
"My favourite part of the trip was the day we spent working alongside June at June's Baking Company. There were lots of chefs working and everything was made to order. We were shown specific dishes that were extremely important to the island. We prepared and cooked saltfish and breadfruit croquettes, and a sour orange lemonade. We also got to try everything!"
Course Leader and accompanying tutor Simon Barton, said: "We had the absolute privilege of a taster of local produce and cookery from the brilliant Chef Orlando at Orlando's restaurant. Orlando and his staff were the pinnacle of what hospitality is all about, they are also exactly what St Lucia is all about 'sharing the love!' We also met local suppliers and chefs, restaurants and even the town mayor. The chefs were buzzing with ideas of Caribbean food all the way back to base".
"Whilst working in the Sandals Grande, our students were based throughout the different themed restaurants. From Sushi, Indian, Italian to Patisserie and Bakery. They made a range of products from samosas, Sushi, Italian sauces and desserts. The hotel was stunning and huge, walking from one side to the other to check on the students was a task! I even got to learn from a Sushi master, this gentleman took his time to show me how it is done right, it was great getting to be the student again, that feeling when you learn something you knew nothing about is priceless".
"One of the cultural days was spent visiting the markets on offer in St Lucia, with an array of exotic fruits and vegetables, spices, herbs and locally made produce. Then we were looked after again by the awesome June's, we spent our lunch being fed some brilliant fresh and local dishes whilst sat under a mango tree, washing it down with a cool tamarind drink made by the chefs in the sun!"
Widening participation
Liam Marsh, International Placement Supervisor at DN Colleges Group, said: "Many of our students have never owned a passport, or even travelled outside of the local area, so the impact of the Turing Scheme for us is huge. If the Turing Scheme funding wasn't there, many of our students simply couldn't afford to access these incredible opportunities."
"The recent fortnight in St. Lucia was intense, with the pickup times for the culinary tour often at 7am and split shifts to cover both the breakfast and evening service on their industry placements – our students were certainly kept busy!"
"These experiences allow our students to gain skills that will bring a new perspective to their work, enhance their CV's, and really help them stand out from the crowd. We work closely with our partners, Caribbean Elective, to reflect the career development aims of individual participants. These opportunities don't come around every day."
"We also need our learners to understand and appreciate that St. Lucia isn't just a holiday destination, it's still a developing country and we wanted them to have that understanding and empathy. We want all our student groups to appreciate that they can give something back to the island that has hosted them."
Charitable Aspect
Whilst on their placement, the staff and students visited The Lady Gordon Opportunity Centre in St Lucia, leaving them with some donations from the UK.
Accompanying tutor Simon, said: "We visited the amazing young people that study at The Lady Gordon Opportunity Centre and their inspirational teachers, who care so much about their students' futures. We left them with some gifts from the UK but they gave us so much more! Inspiration, humbleness, and a new perspective on life, so for that we thank you all, we will never forget those happy little faces. These children do not stop smiling and are so happy to be in school, even when getting ready for a Maths test."
"They didn't want us to leave and neither did I. These children know the true meaning of resilience. The teachers, ensure the students learn the basics of English and Maths but much more than that, they give them life skills, like cooking, growing their own vegetables and managing money, they are truly inspirational people. As much, as I have learnt from St Lucia, this has by far had the most impact on me personally".
After Christmas, the Catering department are planning to host a theme evening in the college's own student led Waterfront restaurant. This will allow the students to put into practice the new skills, ingredients, flavours and techniques they have learned in the Caribbean, whilst simultaneously raising money for good causes in Saint Lucia.