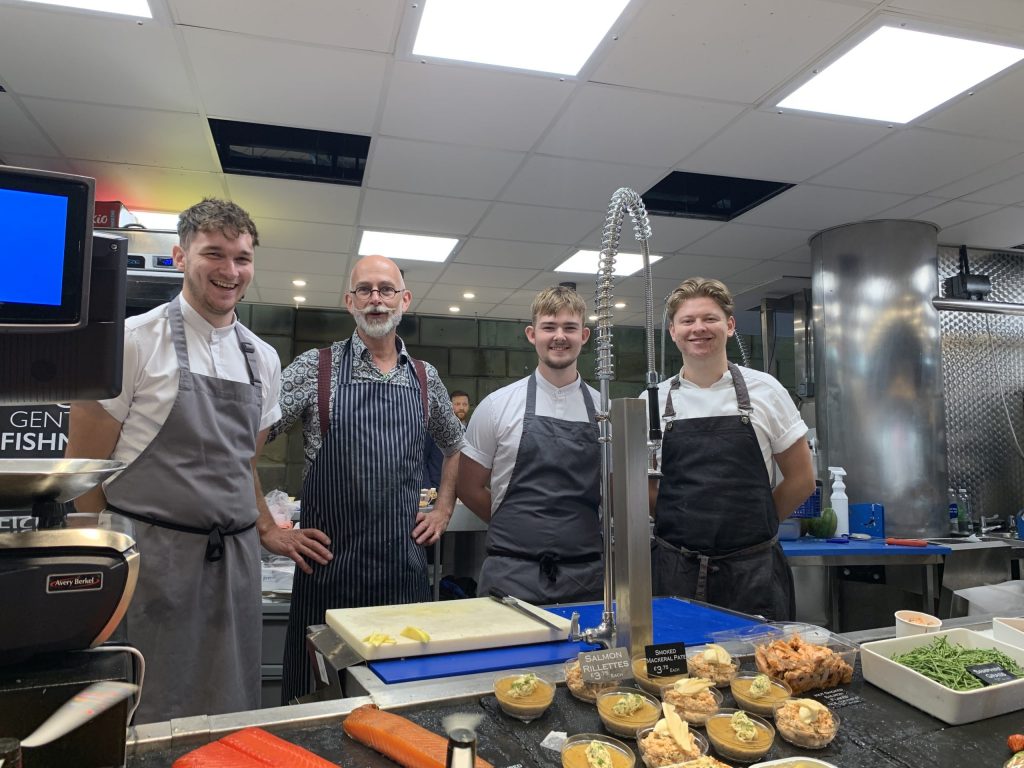 Popular Doncaster business 'The Gentleman Fishmonger', has been going from strength to strength in recent years as they have expanded their produce from amazing fresh fish to a range of delicious ready-to-eat and ready-to-cook items such a fish pies, fish cakes, and pastry goods. Along for the ride are two budding and talented chefs Adam Barratt and Oska Ready, who have both developed their skills on Doncaster College's fantastic Catering courses.
Adam, a Doncaster College Alumni who studied Patisserie and Confectionery, made his talent clear while at college as he competed in multiple national competitions such as Nestle Toque d'Or and the Young Pastry Chef of the year competition. He then went on to develop this talent while working at The Gentleman Fishmonger and has produced a wide range of delicious desserts and exciting dishes in their developmental kitchen. When commenting on the work he does at the fishmonger Adam said 'I work for the Gentleman Fishmonger as one of the chefs. We have started doing functions, private parties, and dinner parties, which is really good and I'm really enjoying it.'
Oska is a current Doncaster College student also studying the Patisserie and Confectionery course, after encouragement from his supportive employers at The Gentleman Fishmonger. While on campus Oska develops his skills creating brilliant baked good, with one of his latest classes being to make an overnight dough for doughnuts and Chelsea buns to go towards the Macmillan Coffee Morning. While at work Oska gets the chance to grow a whole range of other skills, working alongside alumni Adam and Head Chef Marcus Ashton-Simpson to create fresh Sushi, ready-to-cook meals such as pies and fishcakes, and ready-to-eat items such as salmon versions of sausage rolls.
When asked about both his experience at College and at The Gentleman Fishmonger Oska commented 'It's really amazing. It's really fun and I'm learning so much. I am currently working at the Gentleman Fishmonger to apply my skills and knowledge to all this great food we are cooking. It's great to showcase what we can produce. I'm really enjoying it.'
It is great to see the Doncaster College students past and present being given brilliant opportunities for skills and career development right here in Doncaster Town Centre. You can keep up to date will all the amazing work Oska, Adam, and the rest of the team at The Gentleman Fishmonger are doing by following them on Facebook, @thegentlemanfishmonger , where they share regular videos and photos of their latest delicious creations.