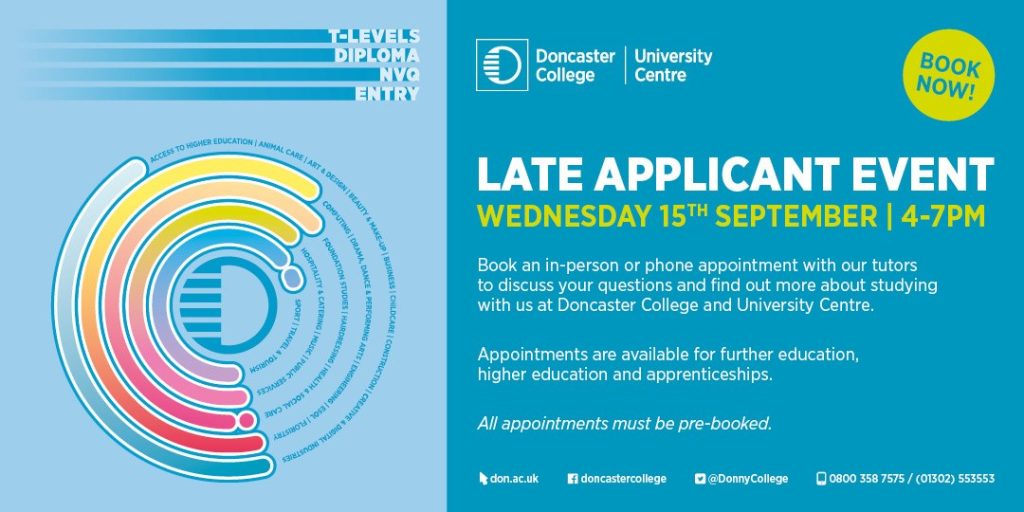 On Wednesday 15th September Doncaster College is hosting a 'Late Applicant Event' to help those students who are still looking to apply to a course this academic year. The event provides students with the opportunity to chat with tutors and explore their options whether they are wanting to study a College level course, a University level course, or an apprenticeship.
This event will be the College's first large in-person event since Covid restrictions were lifted, but rules are still in place as potential students are required to pre-book an appointment for the event, or request a telephone appointment. No matter what appointment students choose, this will be a great chance for students to get an insight into life studying at Doncaster College and University Centre, and allow them to take their next step in education.
The evening will be a host for one-on-one chats with tutors from a whole range of courses, as well as giving students the chance to talk to important support services on offer at the college, such as Careers, Finance, Counselling, international opportunities, and work experience.
Don't miss out on your opportunity to be part of a fantastic course this academic year; book your place at Doncaster College's Late Applicant event by visiting: https://www.eventbrite.co.uk/e/late-applicant-event-tickets-169277765353?fbclid=IwAR3NWYq1PyNfPHSsD6VNGH-CWLCb1Q7owy4Pj4cOzjBwvpYZw3qO7FaI7EI