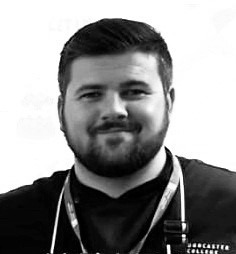 Simon Barton, a chef lecturer at Doncaster College, has won the first ever Mental Health Champion Award from the national non-profit social enterprise, The Burnt Chef Project. Simon's drive to ensure mental health is at the forefront of teaching and learning for his students and staff within the Hospitality and Catering department is outstanding. He has continued to drive The Burnt Chef Project and his passion and dedication makes a massive impact which he has passed onto the wider team. Empowering his students, the future generation of the Hospitality and Catering industry to talk openly about mental health, opening debates and conversations, making it a normal everyday conversation.
Simon continually signposts all support services, locally and nationally. Since becoming an ambassador, Simon has dedicated an area to the project in college and has arranged a charity event to support the future generation ensuring that the college works hard to pass on all the information needed to a wider audience.
The Burnt Chef Project felt Simon was a prime example of someone leading the way to inspire a happier, healthier, and more sustainable future for this great industry.
Simon's colleagues at college wanted to pay special thanks to Simon for introducing them to The Burnt Chef Project in very difficult times while the industry struggled with lockdowns. 'He arranged for online workshops from the Burnt Chef Project, this really made an impact to our staff and students who were struggling in isolation. Simon arranged for food pack ups and lessons still to take place, ensuring that important contact with vulnerable and isolated students with the support of the amazing catering team'.
Simon does all of this work alongside his teaching role and constantly embeds the importance of mental health daily. Simon is a truly outstanding teacher, colleague, and person. Someone the Catering and Hospitality industry should be enormously proud of.
Simon will be heading to the iconic Swinton Park Hotel. The Swinton Park Hotel sits at the heart of the 20,000 acre Swinton Estate on the edge of the beautiful Yorkshire Dales in North Yorkshire. He is invited to attend a reception hosted by the owners of the Swinton Estate, the Earl and Countess of Swinton, take dinner in Samuel's Restaurant, and enjoy the country club and spa for a bit of R&R.
On winning, Simon said "What a privilege and an honour to be recognised by the project and my colleague who nominated and shared some humbling words. I love this project and what it stands for! The ambassadors and Kris are fantastic and such amazing support for myself our students, and the industry".
Source: https://www.theburntchefproject.com/post/2021-mental-health-champion