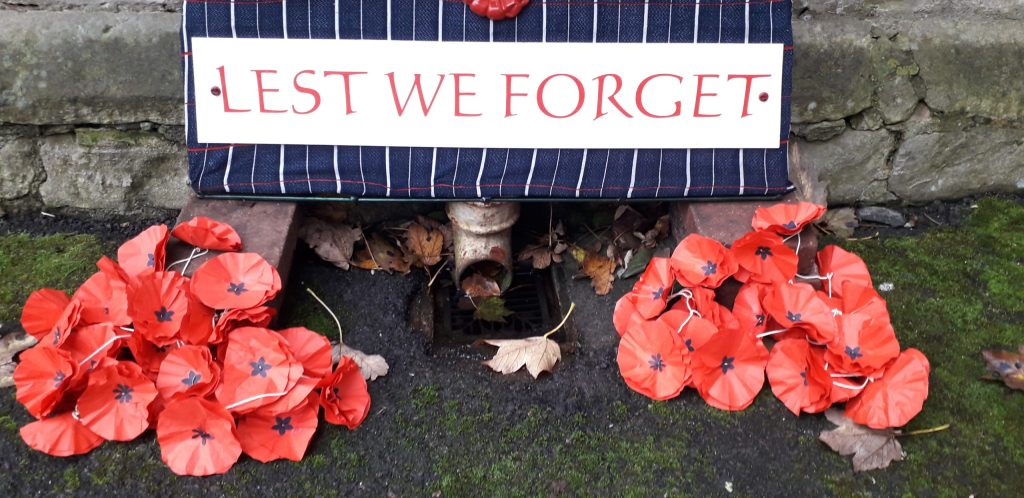 For Remembrance Day 2020, the staff and students of Doncaster College have pulled together to support this important event despite the difficulties imposed by the pandemic. The members of the Doncaster College community have demonstrated great spirit and willing in order to honour Remembrance in the ways they could according to current restrictions.
A group of our Foundation studies students from the Entry 1 & 2 courses worked hard in a week-long project to create hundreds of card and paper poppies for Barnby Dun Church. Denise Hammond who organised this project commented "The students were amazing and worked brilliantly as a team carrying out various roles on the production line with care and precision to make around 200 Poppies." The huge number of poppies were given to the church who displayed the paper creations around their grounds.
When asked how they found the project, Entry 1 learners Marianna Niska and Jessica Watts said "It felt very important to be part of such an important event and we are very proud that our work has been displayed for the local community to pay their respects."
On Wednesday 11th November, all classes throughout campus took part in the two minutes silence at 11am, in honour of those who have lost their lives in the line of duty. Students put down their pens, tools, paintbrushes, and whisks to take a few moments of reflection.
Our Public Services students used time within class to support Remembrance Day by making poppy wreaths which were displayed whilst readings took place on the mezzanine within The Hub. Level 3 Top Up student Molly Batteson and Level 1 student Xhoana Kondi stood and proudly read a selection of poems for this important day.
Public Services lecturer, Kev Neary commented "As an Ex Serviceman of 24 years, Today is a day of reflection and pride of my time servicing this country in the Army and  time to remember those gone before me and served alongside me, who give the ultimate sacrifice and who will not return. It was great to see the next generation in Doncaster College showing their respect on this day"