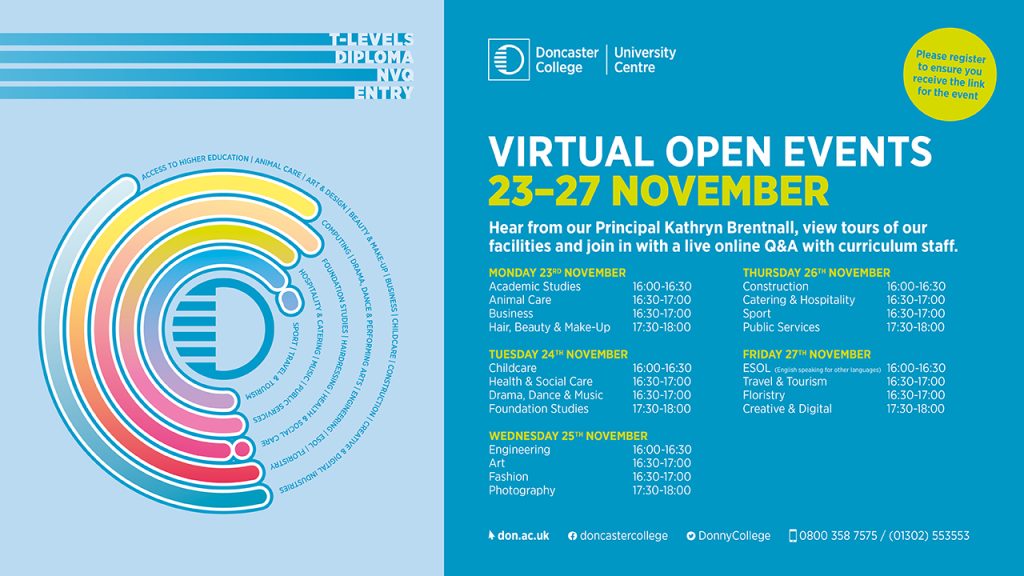 Doncaster College typically host various open events throughout the year, due to current restrictions the College are now offering a week of virtual events.
These events will give prospective students the opportunity to hear from subject tutors, participate in a mini session in some areas and get to know more about the qualifications on offer. Each evening will cover a handful of areas, so students can register for the subject area they would like to hear from.
"Open Events are usually a time for students and their families to look around campus, with our open events normally drawing in around 1000 visitors," says Emma Turner, Head of Marketing. "In lieu of these traditional live, in person events we aim to offer people the opportunity to get to know us more through immersive virtual experiences. We're lucky to have fantastic facilities across all of our provision, so will showcase these areas during these online events."
The College usually invites school age students and those wishing to return to education during open events, to view the fantastic facilities on site and open their eyes to the wide range of careers available in this region and further afield. Not wanting to disappoint, the College are offering a whole week of virtual Open Evenings with unseen footage of the areas which can be accessed through Microsoft teams. The open evening dates include:
Monday 23rd November
Academic Studies 4.00-4.30
Animal Care 4.30-5.00
Business 5.00-5.30
Beauty & Hair 5.30-6.00
Tuesday 24th November
Childcare 4.00-4.30
Health & Social Care 4.30-5.00
Drama, Dance & Music 5.00-5.30
Foundation Studies 5.30-6.00
Wednesday 25th November
Engineering 4.00-4.30
Art & Design 4.30-5.00
Fashion 5.00-5.30
Photography 5.30-6.00
Thursday 26th November
Construction 4.00-4.30
Catering 4.30-5.00
Sport 5.00-5.30
Public Service 5.30-6.00
Friday 27th November
ESOL 4.00-4.30
Travel & Tourism 4.30-5.00
Floristry 5.00-5.30
Creative & Digital 5.30-6.00
Each event will give students and their families the opportunity to view individual areas, see what staff have to offer and give them the opportunity to ask questions and access careers advice. To book onto any of the events visit the College's website www.don.ac.uk and click on the homepage banner to register your place.